WellSaid Innovation: A Voice Model That Reads Like a Voice Actor
with Rhyan Johnson, WellSaid Senior Voice Data Engineer

Here's Ava, a WellSaid Avatar, introducing the session.
Register now, space is limited!
Thursday, August 25 at 12PM PT / 3PM ET
WellSaid's Latest Voice Model is Unlike Any Other
Learn how our Voice Team took the conventional way of training voice models and completely revolutionized it, making our updated model different from the rest.
This Voice Model Reads Context, Not Just Sounds
Not just combinations of consonants and vowels, this update of the WellSaid Voice Model can read words in context, just like a human voice actor.
What This Means for WellSaid Creators
This landmark update of the WellSaid Voice Model has huge implications for the future of AI voice. Learn where this tech is going next!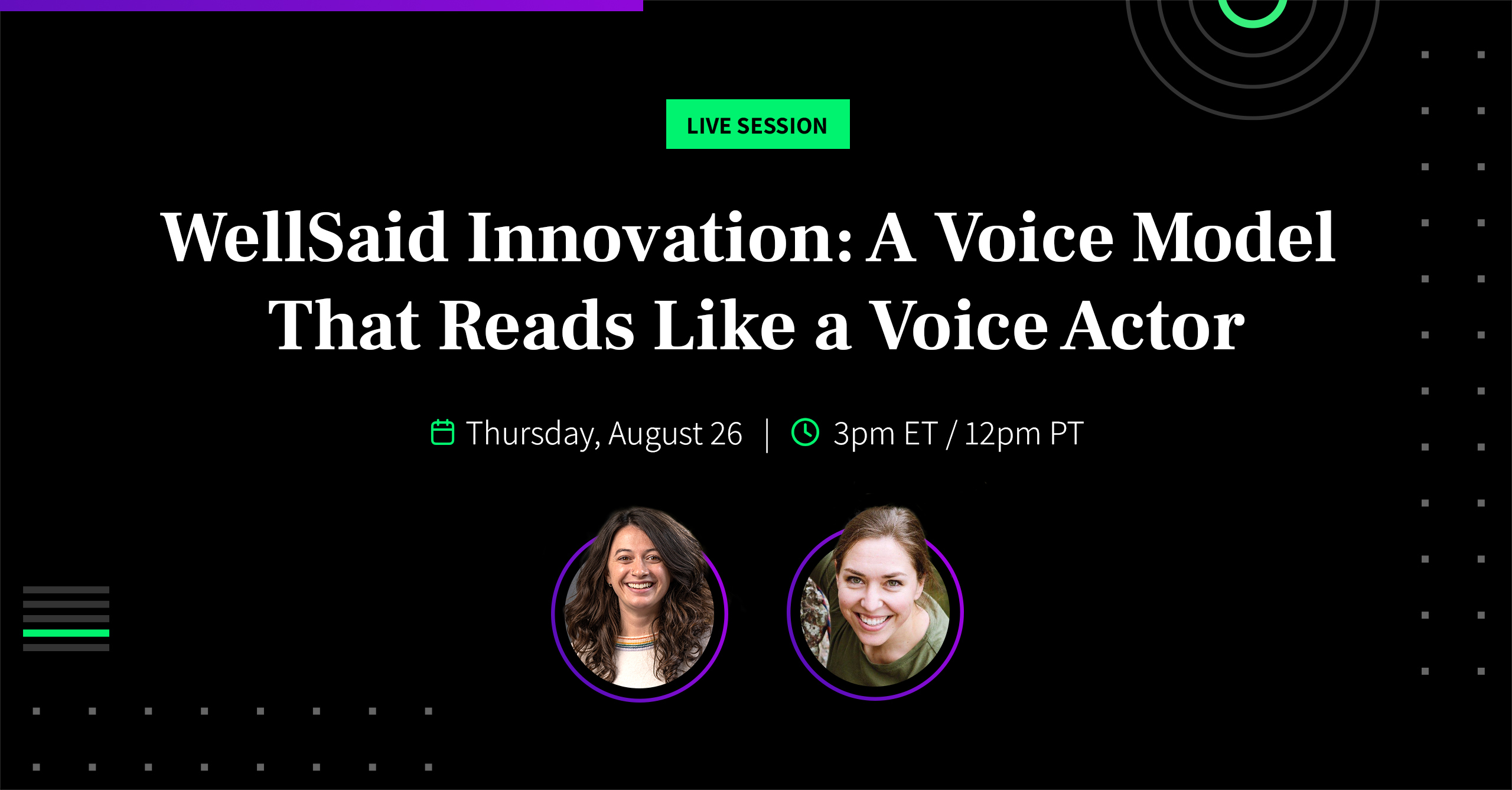 About Our Expert, Rhyan Johnson
As the Senior Voice Data and Machine Learning Engineer at WellSaid Labs, Rhyan works with the larger Voice team to build the best AI Voice Avatars. In her role, she refines the voice avatar after the Voice Model has trained on the recordings provided by the voice actor, making sure that the end result has no robotic or mechanical qualities. She is an expert in machine learning as it applies to AI voice and crafting the most lifelike synthetic voices ever.
Team Leaders Love WellSaid
"In the past, AI voiceover wasn't ready for game day. WellSaid was the first product I saw that I thought, That's pretty powerful. If anyone wants the opportunity to have more control over their production process and time, and if they want to be more competitive especially in the eLearning space, WellSaid is a no-brainer."

Dan Streeter
VP of Learning Strategy and Development at Blue Sky eLearn
"WellSaid is a fantastic product that puts out high quality audio output that fits into today's designs and production cycles. It's nimble; it allows you to entertain and think about all the other possible ways you can move your content forward. As I create audio with them, I can hear them saying new things. They give me ideas for where to go next. Creating audio has become part of my creative process."

Annette Cañeda, ED.D.
Learning Consultant & Designer at University of California, San Francisco